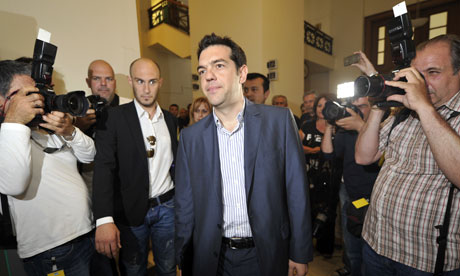 Today's developments in the Greek crisis have hit the US stock market too, where the Dow Jones index is down 139 points, or 1.08%, at 12869
The prospect of a second Greek election next month, or a disorderly break-up of the eurozone, is forcing shares lower. Just three of the 30 companies that make up the Dow are in positive territory.
As Bruce McCain, chief investment strategist at Key Private Bank, put it:
We had a little bit of a letup in worry about Europe, but now have decided that chaos is not a good thing.
Chaos feels too strong a word to describe the situation in Greece today, where the democratic process is taking its (bumpy) course. But it's a sign of the global concern over the eurocrisis.
Evangelos Venizelos, leader of the Pasok party, is refusing to renege on pledges to implement the terms of Greece's aid package.
New is breaking on the wires that
Venizelos, who was finance minister when the deal was agreed, followed rival Antonis Samaras (
see 5.30pm
) in rejecting the demand, made today by Alexis Tsipras of the Syrisa group.
Venizelos said Greece's future must lie in a wider "unity government", based around parties who want the country to remain within the euro. Such a coalition could mean a second election could be avoided -- but it seems a 'tough ask'.
Venizelos said (via Reuters):
I call on all Greek citizens to support...proposals for a national unity government consisting of all forces wanting Greece in Europe, and in the euro.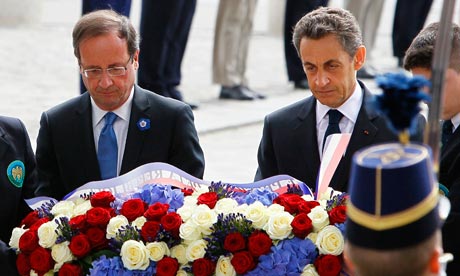 Ian Traynor argues this evening that Germany actually has little to fear from the next president of France.
Our European editor
As I blogged at
11.23am
, European leaders will be attending an 'informal' meeting on 23 May. That will be François Hollande first working dinner with his fellow European leaders.
Ian
reckons that Hollande and Merkel, two "centrist pragmatists", will manage to find common ground over the tricky issues of growth and fiscal consolidation.
He writes
:
As Europe wrestles with its great predicament, Hollande faces charges that he is a "dangerous" tax-and-spend Keynesian out to reverse the fiscal and monetarist rigour of the Germans and trick them into pooling eurozone debt by issuing eurobonds. Crisis sorted.

To judge by his aides, his programme and his statements, however, Hollande is nothing of the kind.

The French would like eurobonds, if they could get them. But with Berlin saying nein for the foreseeable future – though without ruling them out, eventually – Paris is not pushing.
If you're just catching up with the day's events.... the key development came this lunchtime, from Alexis Tsipras of the coalition for the Radical Left.
Immediately after being handed the mandate to form a government, Alexis Tsipras said he could only form a a deal with one of the other Big Two parties if they wrote to Brussels and said they no longer supported Greece's economic reforms.
Here is the key quote that Tsipras gave to reporters in Athens:
The bailout parties no longer have a majority in parliament to vote for measures that plunder the country.....

There will be no 11 billion euros ($14 billion) of additional austerity measures; 150,000 jobs will not be cut.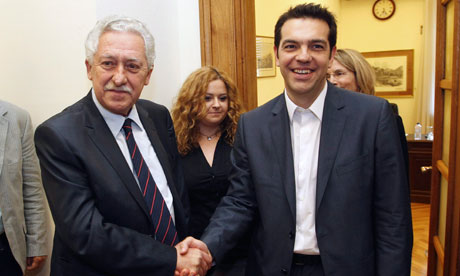 Tsipras went on to meet Democratic Left leader Fotis Kouvelis, and won his backing.
Antonis Samaras, the head of the New Democracy party which won the most seats in Sunday's election, has rebuked Alexis Tsipras for his comments today.
In what reads like a magisterial rebuke to his younger rival (37),Samaras (who turns 61 this month), said he hoped Tsipras "regains his senses" by the time the pair meet later this week.
Hearing Mr Tsipras, we realize he has no intention of guaranting Greece's European identity.
Samaras added that he was not prepared to "sign Greece's destruction". However, he did indicate that New Democracy could provide support for a minority government.
(for balance, Tsipras's position is that the Greek people have emphatically rejected the deal, with 2/3rds of votes going to parties who don't support the terms of the bailout).
On Monday, Samaras found that he was unable to form a coalition (despite winning 108 of the 300 seats in the Athens parliament). Thus Tsipras got his chance today.
Mining giants and financial stocks were the biggest fallers in London today. That reflects fears that the eurozone crisis could derail global growth, and provoke a new crisis in the banking sector.
Here are the five biggest fallers.
see last post
) came as City analysts became more convinced that a second Greke election will be needed. The ballot could easily come in the middle of next month.
Today's heavy losses in European stock markets (
The slump in support for the two main parties, who both supported the current Greek bailout, appears to make it more likely that we could end up with an Athens government that opposes the terms of the €130bn loan deal agreed earlier this year.
Malcolm Barr, an economist at JPMorgan Chase & Co, warned clients that:

A Greek return to the polls in mid-June looks increasingly likely...

There is little doubt that the drop in support for New Democracy, Pasok has raised the probability of an eventual euro exit.
The FTSE 100 has suffered a triple-digit fall today as the escalating crisis in Greece hit stock markets around the globe.
The blue chip index shed 100 points to close at 5554, a fall of nearly 1.8%. That means that the Footsie has now lost all the gains made during 2012.
Other European markets also took tumbles. Germany's Dax lost 1.95%, France's Cac fell 2.8%, while Spain's Ibex dropped 0.8% and Italy's FTSE MIB closed 2.37% lower. This came after the Athens stock market lost 3.6% to close at its lowest level for almost twenty years (
see 3.45pm
).
The selloff was sparked by
Alexis Tsipras
, the leader of the Syriza coalition, who insisted today that the terms of Greece's aid deal were now 'null and void' (
see 1.38pm
). Tsipras made his position clear immediately after being handed the mandate to form the next Greek government (Syriza won the second highsst share of the vote in Sunday's election).
City analysts said that the odds of a Greek exit from the euro are steadily shortening, leaving traders anticipating fresh stock market chaos.
Joshua Raymond, chief market strategist at City Index, said:

The violent swings we have seen in European equity markets over the past few days are concerning as they show indecision by investors, who are unsure of how to position themselves in the midst of the political uncertainty in Greece and the likely domino effect on the country's ability to service its debts.
And Ben Critchley, sales trader at IG Index, commented:
Once again a relatively quiet morning has given way to a more frenetic afternoon. The cause can reasonably be ascribed to comments from a Greek politician of whom no one had heard until yesterday, Alexis Tsipras.

The market in Athens plunged to a 20-year low as Mr Tsipras, who leads the left-wing Syriza party, said that the bailout deals agreed by Greece and its Troika partners were now invalid, since 70% of Greeks had voted against them.
Tsipras has until Thursday to form a coalition government, which is a tricky task given the results of Sunday's election (
details here
). He has already been rebuffed by the KKE communist party.
Jörg Asmussen, a member of the European Central Bank's executive board, has warned Greece's political leaders that they cannot renegotiate their bailout agreement.
Responding to Alexis Tsipras's call today for the Greek moratorium to be torn up, Asmussen insisted that the Greek government must abide by the terms agreed earlier this year if it wants to remain in the eurozone.
Asmusson has a similar message for France, following François Hollande's election victory. He warned that Paris must implement the fiscal compact as it stands, without changes. That echoes Angela Merkel's warning yesterday that the treary is not up for renegotiation.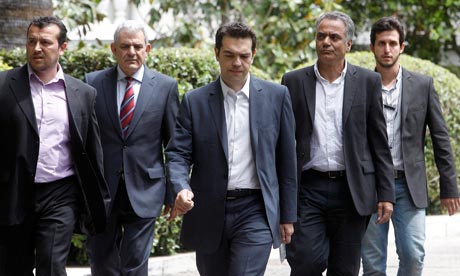 Here's a nice picture from earlier today, showing Syriza coalition leader Alexis Tsipras leaving the presidential palace in Athens after being handed the mandate to form a government.
The FTSE 100 has now fallen below the level at which it started 2012. Currently down 92 points at 5563, with around 20 minutes to go until the close of trading.
The post-Greek election selloff is gathering pace in other markets too.
Michael Hewson of CMC Markets comments:
The Greek stock market closed at its lowest levels since 1992 after left wing party leader Alex Tsipras rejected the bailout deal as "null" raising concerns that the next move in the crisis could well be a path towards an exit from the euro.

As a result the more cyclical sectors have borne the brunt of the declines with basic resource stocks the biggest losers on falling metal prices, with Vedanta Resources leading the way, while gold miners Randgold Resources and Fresnillo have slid as gold and silver prices slide.
at its lowest level for almost 20 years this afternoon.
The main Athens stock market has closed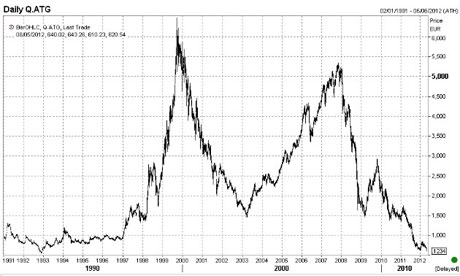 The Athens Stock Exchange General Index ended 3.6% lower at 620.5, a drop of 20 points. It hasn't closed at such a low level since December 1992.