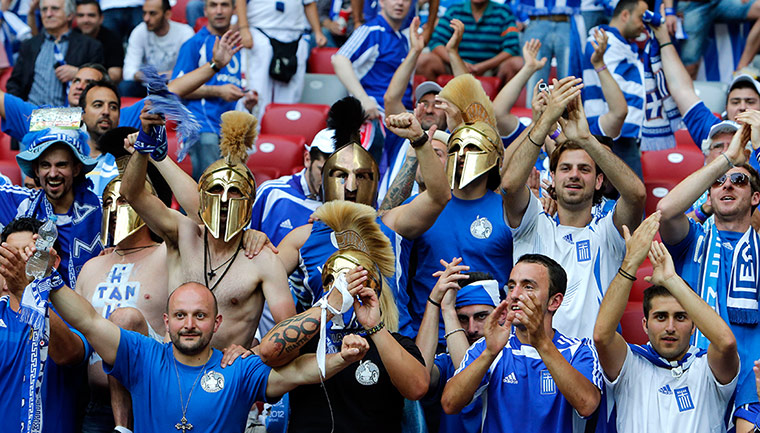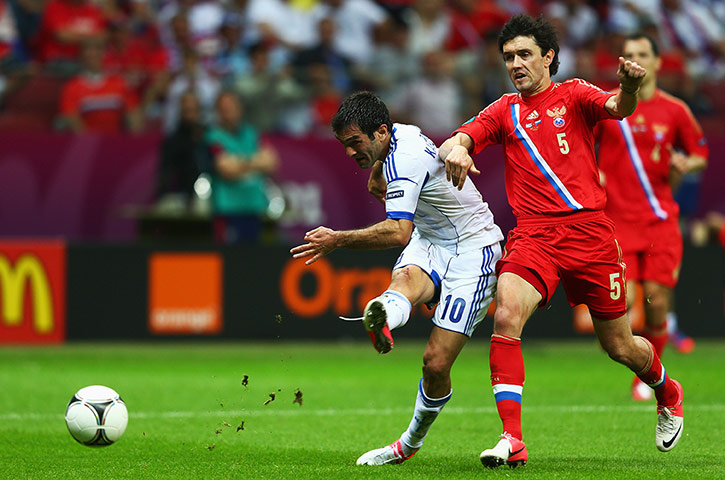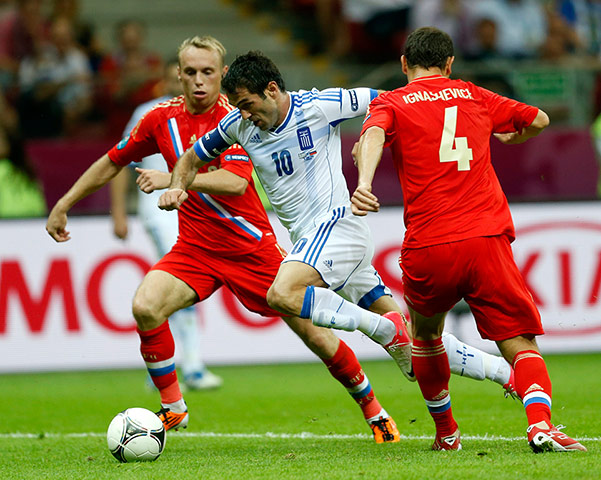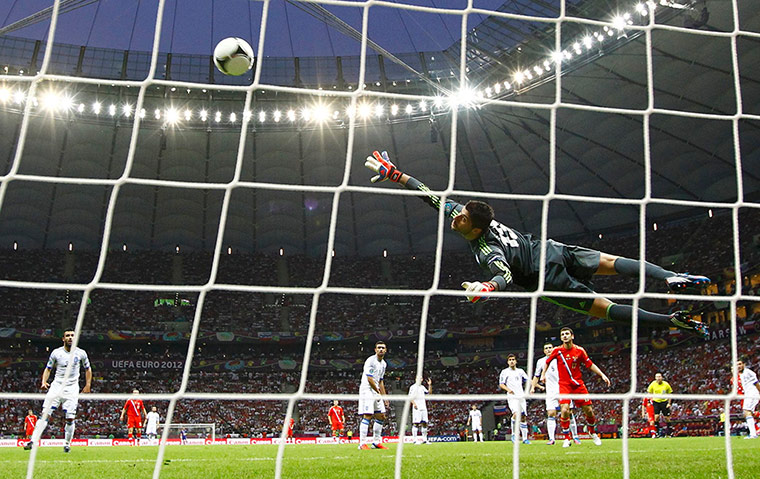 Russia were surprisingly sent home from the European Championship by the combined might of Greece and the Czech Republic, the former pulling off an unexpected yet wholly deserved victory here and the latter claiming the other qualification spot with a win against Poland.
This was a truly wretched Russian display; yet even when trailing to Giorgos Karagounis's goal they could have qualified with Greece had Poland held the Czechs goalless. That hope finally ran out 20 minutes from the end and despite making three attacking substitutions Russia were unable to get back into the game. They were talked up as possible tournament winners after their stylish 4-1 victory on the first day, though playing this badly they would have been highly unlikely to progress far in the knockout stages.
Russia began in a surprisingly languid manner, allowing Greece to come at them as if they did not believe they represented a serious threat to their qualification hopes. They almost got caught out at an early corner when Kostas Katsouranis flicked on Karagounis's cross to force Vyacheslav Malafeev to make a sharp reaction save. Only a win was of any use to Greece and Fernando Santos had promised his team would attack. For the first 10 minutes or so Russia seemed prepared to let them.
Nothing came of Greece's early adventure and once their initial enthusiasm had subsided Russia showed what they were capable of by creating three good chances in as many minutes. First Andrey Arshavin reached Alan Dzagoev's cross, only to direct his effort straight at Michalis Sifakis, then Dzagoev blazed wildly over from a decent shooting position. Aleksandr Kerzhakov hit the best shot of the lot moments later, but saw the ball drift just beyond Sifakis's top left corner. Yuri Zhirkov made a surging run down the left as Russia began to force Greece back into their own half but with team-mates waiting in the middle his cutback was too easily intercepted by Katsouranis.
Russia needed only a draw to go through and for a long time, even though dominant, that was all they seemed likely to get. They enjoyed huge territorial advantage and by far the greater share of possession, yet their final ball was usually too casual or a patient passing move would result in a wildly optimistic shot from distance.
It was fairly tedious stuff as the interval approached, and when a gilt-edged chance finally fell Russia's way, with Kerzhakov in a perfect position to accept a knockdown near the penalty spot, he somehow managed an air shot instead of an effort on goal. Zhirkov was narrowly wide with a rising shot five minutes from half-time but shooting from outside the box was a sign of Russian frustration at not being able to pass their way into it.
When Sergei Ignashevich fell over in possession on the half-way line without an opponent or a team-mate within 20 yards it seemed to sum up Russia's lackadaisical attitude. Dick Advocaat had described the game as a must-win, insisting that Russia needed to make sure of qualifying at the earliest opportunity after blowing a chance in their second game against Poland, yet his players appeared anything but urgent.
Russia paid dearly for slapdash play in the two minutes of added time in the first half. First Roman Shirokov wasted a chance with a simply awful shot that merely surrendered possession. Then a disastrously casual attempt to clear from a throw down the touchline by Ignashevich gave Karagounis a clear run on goal. The Greek captain did not need asking twice, and boldly advanced into the area to punch a low shot under Malafeev.
After the first few minutes, Greece had barely had an attack for the rest of the half, yet they scored with the only chance that came their way. Advocaat, who has been far from a ray of sunshine at this tournament, must have been incandescent at the interval.
Russia sent Roman Pavlyuchenko on for the second half, though the pattern of poor decision-making and general wastefulness continued, with Shirokov hitting another chance too high. The useful Igor Denisov did rather better with another long shot, and at least this was one that had Russian fans on their feet as it missed by inches. As long as the other game remained scoreless Russia could afford to lose narrowly, yet even it was a risky strategy, especially when Dimitris Salpigidis nearly scored from a corner and Karagounis had a penalty claim turned down. Much to his horror he was booked for a dive, a caution that puts him out of the next game, yet replays suggested there was contact even if there was more than a suggestion Karagounis had been looking for the foul.
Zhirkov was booked next for a foul on Salpigidis as the Russian defence carried on living dangerously, Giorgos Tzavellas striking the angle of crossbar and post with the free-kick. Rather more significant for Russia at that point was a goal for the Czechs in the other match, effectively withdrawing their safety net.
Advocaat further beefed up his attack with Pavel Pogrebnyak, Russia now needing to score or face elimination. Denisov tried his luck again from distance but found Sifakis equal to his shot, before Jose Holebas missed a great chance to wrap things up for Greece from Salpigidis's driven cross. Russia failed to step up the pressure, even with five forwards on the pitch and four minutes of stoppage time. In the end their rowdy supporters made more of an impression on the tournament than their footballers.
guardian