Παρασκευή, 6 Απριλίου 2012
A Greek retiree has shot himself dead in Athens' main square, blasting politicians over the country's financial crisis in a suicide note that triggered violent clashes hours later between police and anti-austerity protesters.
Riot police fired tear gas and flash grenades after protests attended by some 1,500 people turned violent on Wednesday, and youths hurled rocks and petrol bombs outside Parliament. Authorities reported no injuries or arrests.



The 77-year-old retired pharmacist drew a handgun and shot himself in the head near a subway exit on central Syntagma Square which was crowded with commuters, police said. The square, opposite Parliament, has become the focal point of frequent public protests against Greece's two-year austerity campaign.



The incident, during morning rush hour, jolted public opinion and quickly entered political debate, with the prime minister and the heads of both parties backing Greece's governing coalition expressing sorrow.

"A pharmacist ought to be able to live comfortably on his pension," said Vassilis Papadopoulos, a spokesman for the "I won't pay" group. "So for him to reach the point of suicide out of economic hardship means a lot. It shows how the social fabric is unraveling."

Greece has relied on international rescue loans since May 2010. To secure them, Athens implemented harsh austerity measures, slashing pensions and salaries while repeatedly raising taxes. But the belt-tightening worsened the recession and led to thousands of job losses that left one in five Greeks unemployed.

"As a Greek, I am truly shocked," Dimitris Giannopoulos, an Athens doctor, said before the protest. "I am shocked because I see that (the government is) destroying my dignity ... and the only thing they care about are bank accounts."

Police said a handwritten note was found on the retired pharmacist's body in which he attributed his decision to the debt crisis.

According to a text of the note published by local media, the man said the government had made it impossible for him to survive on the pension he had paid into for 35 years. "I find no other solution than a dignified end before I start searching through the trash for food," read the note. Police did not confirm whether it was genuine.



Greece has seen an increase in suicides over the past two years of economic hardship, during which the country repeatedly teetered on the brink of bankruptcy.


Police did not release the pharmacist's name and offered few other details.

By Wednesday evening, dozens of written messages had been pinned to the tree under which the man shot himself, some reading: "It was a murder, not a suicide," and "Austerity kills."

Hundreds of protesters made their way across the street from the square to outside Parliament and the Tomb of the Unknown Soldier, chanting: "This was not a suicide, it was a state-perpetrated murder" and "Blood flows and seeks revenge."

Dozens of riot police stood guard.

Papadopoulos, the protest organizer, said the suicide shows Greeks can take no more austerity.

"This suicide is political in nature and heavy in symbolism. It's not like a suicide at home," Papadopoulos said in a telephone interview. "There was a political suicide note, and it happened in front of a clearly political site, Parliament, where the austerity measures are approved."

Prime Minister Lucas Papademos issued a statement as protesters gathered at the site of the suicide.

"It is tragic for one of our fellow citizens to end his life," he said. "In these difficult hours for our society we must all — the state and the citizens — support the people among us who are desperate."

Government spokesman Pantelis Kapsis described the incident as "a human tragedy," but said it should not become part of the political debate.

"I don't know the exact circumstances that led that man to his act," Kapsis said. "I believe we must all remain calm and show respect for the true events, which we do not yet fully know."

Evangelos Venizelos, leader of the Socialist party, said the suicide "is so overwhelming that it renders any political comment unbecoming and cheap."

"Let us reflect on the condition of the country and of our society in terms of solidarity and cohesion," said Venizelos, who served as finance minister for eight months before resigning to lead the Socialists.

Conservative party head Antonis Samaras said the tragedy highlighted the urgency of getting Greece out of the crisis.

"Unfortunately, this is not the first (suicide)," he said. "They have reached record levels."

More protests are planned today.
Τρίτη, 3 Απριλίου 2012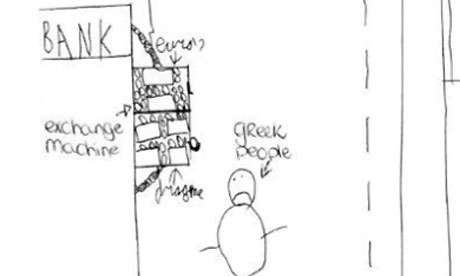 An 11-year-old boy from the Netherlands has joined the chorus of people calling for Greece to leave the euro in a surprise entry for the lucrativeWolfson economics prize.
Jurre Herman
won €100 (£83) in gift vouchers for his devastatingly simple
contingency plan for a breakup of the eurozone
.
Herman suggested Greeks should be forced to swap their euros for drachmas, so the Greek government could pay back its debts with the euros it collects. Any sceptics will surely be convinced by his drawing, which demonstrates a Greek guy, who "does not look happy!!", delivering his euros to the bank.
Herman explains: "All these euros together form a pancake or a pizza (see on top in the picture). Now the Greek government can start to pay back all their debts, everyone who has a debt gets a slice of the pizza."
Showing an impressive understanding of economics, he goes on to say
:
"The Greek people do not want to exchange their euros for drachmas because they know that this drachma will lose its value dramatically." To tackle this thorny issue, he plans to fine those Greeks hiding their euros or transferring them to other European countries, by doubling the amount of euros they tried to hide.
"In this way I ensure that all Greeks bring their euros to a Greek bank and so the Greek government can pay back all the debts. I hope my idea helps you!!!!"
Herman was the youngest entrant for the £250,000 prize, offered in an attempt to find the best answer to the question:
"If member states leave the Economic and Monetary Union, what is the best way for the economic process to be managed to provide the sounded foundation for the future growth and prosperity of the current membership?"
Though he received an honourable mention, Herman did not join the five economists on the shortlist for the prize announced this morning
The Wolfson Economics Prize
,
which challenges the world's brightest economists to prepare a contingency plan for a break-up of the Eurozone, today (3rd April, 2012) unveiled a shortlist of five finalists.
The shortlisted entries, though all very different from each other, provide valuable ideas about how best to manage a member state leaving the euro.
The judges have given the finalists the opportunity to address key questions about their entry. Finalists will be given until the 29th of May to develop and resubmit their entries. Everyone who has progressed to this stage will be guaranteed a £10,000 share of the prize. The winner(s) of the Wolfson Economics Prize will be announced on the 5th of July.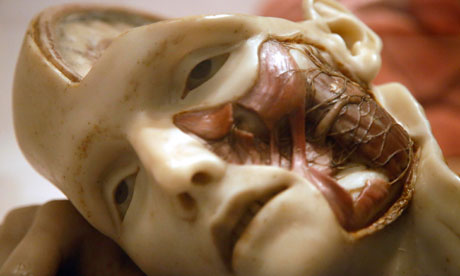 Is it something to do with the Olympics? Athletics is physical, the logic might go, so let's think about bodies... Anyway, a shared anatomical obsession connects exhibitions that open this week, and later in the spring. Damien Hirst's debt to anatomy does not need labouring. But just as his specimens are unveiled at Tate Modern, everyone else seems to be opening their own cabinets of curiosities. At London's Natural History Museum, dissected animals are going on view in an exhibition that brings the morbid spectacle – which in my childhood was simultaneously the horror and fascination of this museum – back into its largely flesh-free modern galleries.
It is no surprise that art and science keep coming together on the anatomist's table this spring, for anatomy has a venerable and intimate connection with the efforts of artists to depict life and death. In his series of popular prints The Four Stages of Cruelty, William Hogarth sees the public dissection of a murderer by cold-blooded anatomists as the ultimate cruelty. But many artists have been happy to watch or even wield a knife at such events.
Clinical knowledge, to help them portray humans and animals correctly, is one reason artists have been drawn to anatomy. Another attraction is more metaphysical: to look inside a human body is to get an eerie sense of who we are, to probe the mystery of being. Rembrandt's painting The Anatomy Lesson of Dr Nicolaes Tulp is not a scientific study but a poetic reverie on the fragility and wonder of life – glimpsed in a study of death. Does Hirst make it as an artist in this tradition?
In a few weeks, all these anatomies will be put in the shade, for this spring's surge of anatomical display is due to culminate with an exhibition of the greatest works of art ever made about the interior of the human body.
Leonardo was interested in anatomy scientifically and poetically. He did his own dissections. These drawings are masterpieces of observation that he made under the hardest circumstances. He wrote about the terror of spending his nights dissecting the dead, all for the sake of knowledge.
No other art captures the enigma of our physical existence with such beauty and profundity as his anatomical drawings. In these, the human condition is laid bare.
Ο
Αυστριακός φωτογράφος Klaus Pichler
απαντά με το project του
One Third
στη μελέτη που δημοσίευσε η Διεθνής Οργάνωση Τροφίμων και Γεωργίας, το Μάρτιο του 2011, που αποκαλύπτει ότι, κατά μέσο όρο, το 1/3 των τροφίμων παγκοσμίως πετιέται στα σκουπίδια, ακόμα και όταν είναι ακόμα βρώσιμα.
Πόσες φορές έχετε πετάξει λαχανικά πριν μαραθούν τόσο που να μην καταναλώνονται; Πόσες φορές έχετε ξεπαγώσει κρέας και το έχετε ξεχάσει ή τελικά βγήκατε έξω γιατί άλλαξε η διάθεσή σας και το κρέας δε μαγειρεύτηκε ποτέ; Μόλις χθες πέταξα 4 κρεμμύδια, 1 μαρούλι και 2 καρότα, τα οποία δεν τρώγονταν.
Κανείς μας δεν αναλογίζεται ποιο είναι το πραγματικό κόστος της πράξης μας, που δεν υπολογίζεται μόνο από την αξία του προϊόντος, αλλά και από τη «διαδρομή» του - το οικονομικό αλλά και το περιβαλλοντικό κόστος ενός πορτοκαλιού, για να φτάσει από τη Νότιο Αφρική σε ένα σούπερ μάρκετ στην Ευρώπη, να αγοραστεί και τελικά να πεταχτεί, πριν ακόμα χαλάσει. Όλα αυτά τη στιγμή που στο Νότο άνθρωποι υποφέρουν και πεθαίνουν από ασιτία. Αν δε θέλουμε να κοιτάξουμε τόσο μακριά, ας σκεφτούμε όσους ψάχνουν τα σκουπίδια μας.
Το φωτογραφικό project One Third,
παραθέτει στοιχεία όπως η χώρα από την οποία προμηθεύεται η Αυστρία το προϊόν και η απόστασή της από αυτήν, τον τρόπο μεταφοράς αλλά και το αποτύπωμα ρύπων. Ας σκεφτούμε κι εμείς από πού προέρχεται κάθε προϊόν που ετοιμαζόμαστε να ξεφορτωθούμε.
Οι φωτογραφίες του σίγουρα δε θα σας ανοίξουν την όρεξη. Ο Klaus Pichler θέλει να μας ευαισθητοποιήσει, ώστε να σταματήσουμε να πετάμε με τέτοια ευκολία το φαγητό. Πριν λίγο έδειξα τις φωτογραφίες σε μια συνεργάτιδα και απομακρύνθηκε από τον υπολογιστή λέγοντας «Αγριεύτηκα». Πιθανόν ο φωτογράφος να έχει πετύχει το σκοπό του.
ATHENS VOICE
It's common knowledge that plants grow upwards, following a path to the nearest sunlight.
But one botanist-turned-artist has taken this basic concept and used it as a basis to sculpt stunning skyscapes that have coined him the nickname 'the Green Man'.
Patrick Blanc has been described as a 'living encyclopedia on plants', and a particular expert in those growing in the most severe and difficult conditions.
Taking his cue from nature, particularly aquatic plants and those in the protected and moist shaded zones of the understory of tropical forests, Blanc developed a simple technique that allowed fauna to grow without soil along the surface of a wall, with roots attached to a mesh-covered felt soaked with mineralized water.
Blanc's creations now adorn the walls of museums, shopping centres, private homes, hotels and skyscrapers across the world.
In many countries, the standard way of treating autistic children is with behavioural therapy - stimulating and rewarding them to develop the skills they need to function in society - but France still puts its faith in psychoanalysis. And an increasing number of parents are now demanding change.
For autism campaigners, it is one of the most serious health scandals of our times.
How for decades France turned its back on the latest scientific thinking, and treated autism as a form of psychosis.
How, as a result, tens of thousands of children were misdiagnosed - or not diagnosed at all - and consigned to lives of misery.
And how, to this day, in its approach to autism, the French medical establishment continues to believe in the powers of psychiatry and psychoanalysis - long after the rest of the world has switched to alternative methods of treatment.
"It is an out-and-out disgrace," according to Daniel Fasquelle, a member of parliament who campaigns on the issue.
"Every day I am contacted by parents with the same story - how their child's autism was not detected in time, so they never had the treatment that they needed.
"Thousands of children could have been saved. They do it everywhere else. Why not here? It is France's shame."
The row over autism in France has festered unreported for years. But recently it has become public. Independent associations have been created, lobbying for a move away from psychoanalysis and psychiatry, and over to the "behaviourist" treatments that prevail elsewhere.
In early March, these groups scored an important victory - with a ruling from the health ministry that calls into question the use of psychoanalysis as a treatment for autism.
But the psychoanalysts are not taking it lying down. From their point of view, behaviourism is a form of superficial social conditioning that does not address root causes - and they resent the way they have been typecast as the villains of the piece, when their aims are as sincere as those of their opponents.
"One thing that never pays in the field of autism is triumphalism," said Lauriane Brunessaux, a child psychiatrist. "Autism is far too complex, and we understand it so badly.
"Today it is the behaviourists who are being triumphalist."
The behaviourist approach to autism was developed in the 1970s and 80s in the US and Canada, and it is now the norm in most of the world.
Under the so-called ABA method (Applied Behavioural Analysis), autism is treated as primarily an educational - rather than a medical - problem.
With a set of rewards (which can be granted or withheld) - and with plenty of individual attention - children can learn to function in society, and be much less of a burden on their families.
"If you diagnose early, and then give the right treatment between the ages of two and seven, 70% of autistic children can acquire functional language skills. Here in France, we are way off that figure," says Fasquelle.
"And the same pattern continues later in life. In the UK, there are 17 times more university students with autism than in France. It is unacceptable."
The blame - Fasquelle and autism associations argue - lies with a medical establishment that remains fixated with Freud.
"Today everyone knows that autism is a neuro-developmental problem. It is not a psychosis or mental disorder," says Muhamed Sajidi, president of the association Conquer Autism.
"But in France it is the psychiatrists - heavily influenced by Freudian psychoanalysis - who remain in charge. And they have shut themselves off from all the changes in our knowledge of autism."
Sajidi set up the association after his life was "destroyed", as he puts it, by the medical establishment's failure to diagnose his son Sami's autism.
For him, as for many others, one of the worst aspects is how blame for autism has been laid at the door of the child's parents, and more especially of the mother.
"The first time I went to see a doctor when my (autistic) son Gael was three and we thought there was a problem, the psychiatrist asked me if I had wanted him - if it had been a wanted pregnancy!" says Candy Lepenuizic, a British woman married to a Frenchman.
"Then she asked what sort of dreams I had had while I was pregnant with him. And suggested the whole family have a course of psychotherapy.
"At that point I got up and walked out. It was only because I had been warned this might happen that I did not burst into tears."
Such horror stories are typical in French families of autistic children.
"The whole idea was that it was la faute à maman (the mother's fault). It was the 'refrigerator mum', or there was some problem with the family dynamic," says Lepenuizic.
"They thought that if the child was failing to communicate with the outside world, it was because of some trauma in the womb or in very early life. There was a family malfunction, and we had to cure it!"
Critics say this emphasis on psychoanalysis and relationships meant that autistic children were not spotted till far too late. And that, in turn, meant that their chances of effective treatment were sharply reduced.
Some 60% of autistic children in Sweden attend school, Sajidi says.
"Today only 20% of autistic children in France are in school, and often only part-time. The rest are either in psychiatric hospitals, or in medico-social centres, or living at home - or in Belgium," says Sajidi.
"Many families are sending their children to Belgium, where it is much easier to set up behaviourist treatment centres.
"Things are changing now, because parents are refusing to be taken for a ride by the professionals. But the real tragedy is with France's autistic adults, many of whom are in a state of total incomprehension or even self-mutilation.
"Seventy-five percent of families with autistic children end in divorce, and normally it is with the mother that the autistic person stays.
"Today these poor elderly women are looking after their adult children with no knowing what will happen when they die."
If Sajidi and other campaigners are beginning to feel the wind turn, it is because the health ministry is finally beginning to fund pilot schemes for behaviourist schools, as well as early diagnosis centres.
In its recent report, the ministry also effectively outlawed a practice known as "packing" where autistic children are wrapped in damp cloths in order to reconnect with their bodies. Campaigners say the treatment is both barbaric and ineffective.
The fundamental problem, campaigners argue, is that the psychiatric profession is resisting calls for change, because the fewer patients there are, the less they earn.
"They have a financial interest in institutionalising autistic children," says Sajidi.
Lepenezuic says: "The state pays. The child doesn't get any better - but who cares? It's being looked after by the state, and the doctors are making a lot of money. Why would they change the system?"
But on the other side of the fence, such charges are deeply resented.
Child psychiatrists like Lauriane Brunessaux believe that the associations have grossly distorted the debate, and are engaged in a battle to "discredit psychoanalysis and the whole notion of the unconscious".
Defenders of the French system argue that the situation was never as one-dimensional as the behaviourists have claimed.
First of all, they say, there have been plenty of success stories emanating from a psychoanalytical treatment of autism. They just have not been so loudly trumpeted.
Secondly, it is not as if the behaviourist approach is itself beyond criticism. In the US and Canada, argues Brunessaux, there have been studies that raise serious questions over its true scientific validity.
"The only real scientific reference for behaviourism is the electric shock experimentation on rats carried out by (US psychologist) Burrhus Skinner in the 1940s.
"Obviously the methods of reward and punishment today are totally different. But that is the background to behaviourism," she says.
For leading French psychoanalyst Eric Laurent, there is a deeper problem.
"Changing behaviour is one thing. But what do you do with the trouble that lies behind it? It is all very well to focus on the skills that can be transmitted via an intensive behaviourist approach, but that leaves a whole dimension out of the picture," he says.
As for the charge that psychoanalysts are responsible for family breakdown, Laurent is equally dismissive.
"The idea that you had to wait for psychoanalysts to come along for there to be hatred inside families is ridiculous. Hatred has always been there.
"Psychoanalysis is being used as a scapegoat - though we should not perhaps mind that, as being a scapegoat is part of the role of psychoanalysis," he says.
What angers people like Brunessaux and Laurent is that while on their side of the debate they are quite prepared to admit the effectiveness of behaviourism - as one of several possible approaches to autism - the behaviourists are dogmatically tied to their system and theirs alone.
Whoever is ultimately in the right, what the autism row perhaps shows most clearly is the changing nature of French society.
Once, families did what they were told. The state was ultimately benevolent, and had massive resources to dispense. If doctors chose institutionalisation, then who was to argue?
Today it is different. Thanks to the spread of knowledge, the internet, consumerism and the decline of the collective spirit - families for the first time feel emboldened to think, and act, for themselves.
marilena: The Nodding disease....
: In the north of Uganda, thousands of children have fallen ill with a fatal, incurable disease known as nodding disease. Communities are ...
In the north of Uganda, thousands of children have fallen ill with a fatal, incurable disease known as nodding disease. Communities are starting to panic and some people are losing hope as the medical community struggles to either find a cause or a cure, as the BBC's Will Ross reports.
Richard WarryBBC News
The cause of
nodding disease
,
which causes wastage of the brain tissue, abnormal brain waves and seizures, remains unknown.
One theory is that it is connected to infection with a parasitic worm carried by the black fly - already known to cause river blindness. In an outbreak in 2004, more than nine out of 10 children who showed symptoms were found to be harbouring the parasite.
It is possible that infection with the parasite triggers the immune system to over-react, and to inflict damage on the brain and nervous system. However, scientists have been unable to explain why Nodding disease does not occur in some areas where the worm is common.
Other theories have linked the condition to exposure to toxic chemicals, contaminated meat, a lack of a form of vitamin B and psychiatric problems.
Driving through villages of Uganda's northern Kitgum district it is staggering how many families have been affected by the debilitating nodding syndrome.
In Tumangu village it is like a plague.
Francis Anywar sits in front of the grass thatched home. The 15-year-old is naked and appears to be in another world - never speaking.
The scars on his head point to the violent seizures that strike several times a day. Francis's health started deteriorating eight years ago and both his physical and mental development have steadily been eroded.
Tied to a tree
A few hundred metres further down the dirt road a mother tells me something I will never forget.
"I've lost hope. I'm just taking care of Sarah and Moses like flowers in the home knowing they are of no use in the future," Betty Olana says.
Because of the neurological syndrome, her 14-year-old daughter and 12-year-old son look much younger and need round-the-clock care. They cannot wash themselves or get dressed without help.
"When I go off to farm I tie them to the tree so they don't get injured.
"If they walk off they don't know where they are going they just keep walking and get lost."
One nurse told me that when the children develop psychosis and wander off into the bush they often do not return home. She said hunger can then kill them and mentioned incidents of dogs carrying the bodies of dead children back to a village.
When Ms Olana brings out a tray of millet porridge and stew, Sarah and Moses wash their hands and tuck in. But within minutes Moses's head starts to drop, his eyes close and as if in a trance he appears to be drifting off into another world.
Food, heat and cold weather are the triggers.
However, due to deep poverty, many families cannot afford to pay for the transport.
Others like Ms Olana have simply given up on their children.
Ojok Samuel sits at the clinic staring into space. He is nine but looks three or four.
"He started nodding his head at the age of two whenever we gave him food," his father John Oboda says, adding that the stress on the family has affected his own health.
Unable to farm, because he always has to care for the children, the family is slipping deeper and deeper into poverty.
Stigma
He has also brought his 10-year-old daughter Jaqueline Amony who now suffers regular seizures, which have affected her mental ability.
Neither of these children are going to school and most worrying for Ojok is that they have not shown any sign of improvement since beginning medication to control seizures a year ago.
"Neighbours don't allow their children to interact with Samuel and Jaqueline. Our family is now isolated."
I am told some motorbike taxis have been refusing to carry affected children.
Cases were seen in Tanzania back in the 1960s and in recent years in South Sudan. Despite its devastating impact, health
officials have been left baffled as they try to find the cause and the cure.
Some of the symptoms are similar to epilepsy and health workers prescribe the anti-convulsant medicine carbamazepine, which is used to manage epileptic seizures.
In northern Uganda they have just started trying out a new drug, sodium valproate, which is also used to treat epilepsy. The medical staff point out that when brought to hospital and given the medication some children improve and suffer less frequent seizures.
But, sadly, by this stage the damage to the child's development has already been done and cannot be reversed.
In November 2009, the Ugandan government requested help from the US-based Centers For Disease Control and Prevention. CDC experts have visited the affected area and taken away samples to test but they are struggling to find the underlying cause.
"The CDC teams documented for the first time that Nodding Syndrome is a novel complex epilepsy syndrome, and that the head nodding was a direct manifestation of seizures that cause a brief lapse in muscle tone due to alterations in brain function," the public health organisation says.
"Children living under the poorest conditions where there is not enough food, pure water, or decent housing seem most susceptible to this condition."
The last time I was in Kitgum hospital in 2004 it was a nightly refuge for thousands of children who could not sleep at home for fear of abduction by the Lord's Resistance Army rebels.
Northern Uganda is now peaceful but the families and health workers tell me that they feel like they are fighting a new war.
"We are getting stressed dealing with this traumatic situation. You see new cases every day - children having fits, others falling down. As a human being you feel the pain," says Adong Josephine, a psychiatric nurse in Kitgum hospital.
"Even me I have started to develop stress on seeing these patients. You don't know what really causes the problem," Ms Josephine says.
"You put yo
u
rself into the shoes of these parents. Supposing these were my children; what if the problem comes to my family; where will I be? Where will I go?"
"So many have died and others are still at the critical stages of dying because when you look at them - some are too wasted unable to eat unable to walk. If they are not brought to the hospital they are most likely to die in some days to come," she adds.
On the ward are two badly burnt children. The cooking fire at home is a death trap for the affected children because when a seizure strikes they are unable to move away from the flames.
Outside at the screening centre 13-year-old Augustin Oola goes into spasms as a nurse tries to get him to stand up. He only appears moderately comfortable when he is allowed to flop on the floor where he sits silently.
With no known cause or cure speculation is rife.
"It could be an effect of the war. There were many deaths around this area - many people were killed. So maybe it is their spirit which is making these children sick," suggests Ms Olana, whose home is in an area the LRA rebels used as a base.
"We see many people coming now to try to investigate. So we have a little bit of hope. We are praying that these children will be cured."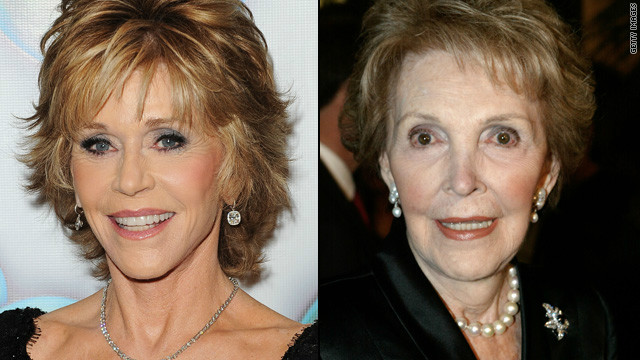 Fonda's publicist confirmed to CNN that the actress is in talks to play the wife of the 40th president of the United States in the true-life story of Eugene Allen, an African-American man who worked as a butler in the White House from 1952 to 1986.
Allen served eight presidents, ending his career as a White House Butler during Ronald Reagan's term as president.
If Fonda's deal comes together, the Oscar-winning actress would join a cast that could include Oprah Winfrey, Forest Whitaker and Mila Kunis, Variety reports.
According to the trade publication, Whitaker is at work closing a deal to play Allen, while Winfrey is currently in talks to play his wife. Kunis has been approached about playing Jackie Kennedy.
Other potential cast members reportedly include David Oyelowo, who is in negotiations to play Allen's son, and Liam Neeson and John Cusack, who may snag roles as former presidents Lyndon B. Johnson and Richard Nixon.
The film is set to be directed by Lee Daniels, who was nominated for an Oscar for directing "Precious." Filming is expected to begin this summer.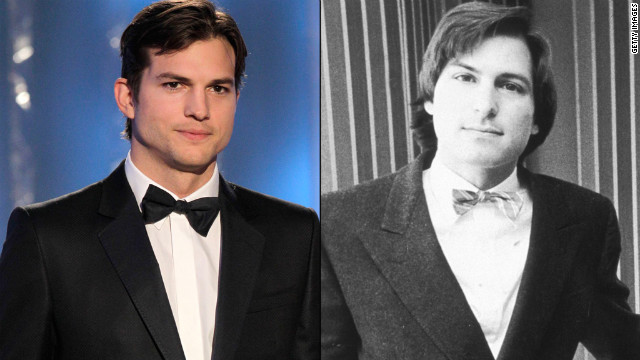 (CNN)
--
Actor Ashton Kutcher, who got his break on "That '70s Show," will go back to the 1970s to play tech visionary Steve Jobs in an indie film about Jobs' early life and the founding of Apple.
Production on the film, "Jobs," is scheduled to begin in May while Kutcher is on hiatus from his hit CBS series "Two and a Half Men,"reports Variety, the film-industry trade publication. It will be directed by Joshua Michael Stern ("Swing Vote") and "will chronicle Steve Jobs from wayward hippie to co-founder of Apple," according to Variety.
The timing of the story, which was published Sunday on Variety's website, combined with Kutcher's well-known love of pranks, led some to dismiss it as an April Fools' joke. But CNN confirmed Monday through a representative for Kutcher that the actor has signed on for the role.
Jeff Sneider, the reporter who wrote the Variety article, said on Twitter on Sunday that the movie will follow Jobs from when he and Steve Wozniak founded Apple in 1976 to when Jobs returned to the company in the late 1990s after being forced out. It won't cover Jobs' later years, he said.