Σάββατο, 28 Απριλίου 2012
A trial using electricity to shrink the hearts of patients with heart failure is about to start in Liverpool.
It will involve electrically stimulating one of the nerves leading to the heart, which it is hoped could shrink the heart and improve life expectancy.
This first patient will be operated on in the next few days.
The heart pumps blood around the body, and when it fails to do this properly people can become tired and out of breath far more quickly. For some patients it feels like running a marathon when they are only sitting in an armchair.
Heart failure affects around 900,000 people in the UK and can be the result of high blood pressure, dead heart muscle after a heart attack, or a genetic condition.
Bigger and bigger
As the heart loses its ability to pump, it fills with too much blood and becomes stretched over time. The more the heart enlarges, the worse the symptoms.
Surgeons at Liverpool Heart and Chest Hospital and The Royal Liverpool University Hospital hope to reverse the damage.
They will fit a device - similar to a pacemaker - to the vagus nerve which runs to the heart. Surgeons said the electrical stimulation should "protect the heart" from the effects of the hormone adrenaline.
Adrenaline makes the heart pump harder and faster; this is one of the body's responses to heart failure - but doctors say it becomes toxic over time and damages the heart further.
Dr Jay Wright, a consultant cardiologist at Liverpool Heart and Chest Hospital, told the BBC: "We're hoping it will shrink the heart, but it might not be to normal size."
He said shrinkage "would lead to improvement in symptoms - we know that the bigger the heart the worse the symptoms".
Nearly 100 patients will take part in the trial at 30 hospitals around the world.
The first will be Carl Jordan, who used to be a paramedic. He has had several heart attacks which have damaged his heart, causing it to become enlarged.
He said: "Being the first person to have this device implanted in Liverpool was a huge decision.
"My quality of life at the moment is not great, because of the restrictions my condition has imposed on me, especially the breathing problem, as some days this is quite severe and getting worse.
"Another factor is I have a young family who, although I am the one with the illness, they too are living with it and see every day what it can do to me, so hopefully it will improve my quality of life as well as the lives of others."
bbc news
The idea is that by shielding the heart, it will stop enlarging and begin to shrink.
Πέμπτη, 26 Απριλίου 2012
Mercedes, BMW, Porsche and other top automakers know that the Chinese market is huge – and the potential is even bigger. All the best wares are on display in Beijing.
Made for China? (Tim Wang)
BEIJING
-
Packed crowds, cars burnished to high sheen – at first glance, the Beijing International Automotive Exhibition may appear no different than other major auto shows in Detroit, Geneva and Frankfurt.
But the importance of this particular show to international automakers is unique, and can be measured by facts like this: in the huge country that is China, more than one million cars are registered every month. This means that winning or losing just 0.1% of the market can mean selling (or not selling) more than 10,000 additional vehicles per year.
So competition at "Auto China 2012" between the big fish with huge market share and the wannabes, both domestic and foreign, is fierce. And, as they do on the streets of central Beijing, the German brands play a particularly heady role – because the car models that widen the eyes of China's fast-multiplying, upwardly mobile middle class are to be found at the large and consummately professional-looking stands of the German manufacturers.
Volkswagen, Mercedes and Germany's other top automakers have long understood this, and accord the Chinese show a commensurate amount of importance. They even present special, made for China "stretch" models of familiar models that they don't show anywhere else. Audi, for example, is showing a slightly stretched A6 for the first time, and BMW offers the 3 Series with an additional 11 cm (4.3 in) on the wheelbase. The star feature of the Mercedes stand is its so-called "concept style coupé" – a sporty four-door model based on the new A-Class – that can be expected to be manufactured pretty much as presented, although the company is being cagey about whether the car will ultimately be baptized CLA or not.
By comparison to the CLA, the Denza (a Mercedes/BYD Chinese brand) electric car based on the old B-Class, looks austere, even boring, although that doesn't apply to what's under the hood. The car hits the market next year.
It's hardly a surprise that Porsche scheduled the world launch of the Cayenne GTS for the Beijing show: on the one hand, the timeframe was ideal in terms of the company's product planning, and for another the derivative of the luxury SUV is ideal for China – in no other market on the planet does Porsche sell so many Cayennes as it does here.
Other VW brands didn't offer any particular novelties, except for the Urus design produced by VW subsidiary Lamborghini. Also presented as a concept car, the Urus is sure to go into production and Lambo boss Stefan Winkelmann is already saying they're aiming to sell 3,000 of the SUV per year.
French cars weren't getting a lot of buzz at the show, and what attention they were getting was going to Citroen. Its futuristic Shooting Brake DS9 appeals to a market where expensive models cannot be big or conspicuous enough.
One of the big stars of the Beijing show was without a doubt the Jaguar F, presented in a coupé version. The F will presumably hit the market in 2013, at prices above 50,000 euros.
And the Chinese carmakers? They keep on learning, and this year markedly better quality and a much more professional finish characterized their new models. For Europeans, however, the problem with Chinese cars is the design -- particularly smaller models, where Chinese manufacturers tend to lean to forms and lines seen a decade ago in Korean cars. The larger the car, the more Baroque the lines – Chinese brands like BYD, Geely, Brillance, and Roewe really need to work on forging their own, authentic looks before they stand any kind of chance on the European market.
Nintendo legend Shigeru Miyamoto turns 60 this year, but the father of Mario and Zelda has no thoughts of retiring.
Simon Parkin
met up with him in Paris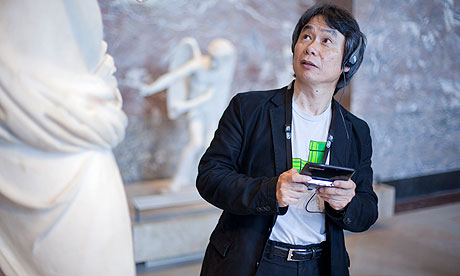 "Why do you still play video games?"
Shigeru Miyamoto is tired. Jetlag is partly to blame – the 11-hour flight from his hometown Kyoto to Paris, combined with a day's worth of interviews with journalists eager to pull headlines from his lips, accentuating the bags under his eyes. But it's more than that.
This November, Super Mario's father turns 60. Having spent over half of his life working at Nintendo (his first and only job) on more than 100 games, a little vocational weariness is inevitable.
But it's more than that. The pause before he answers is borne from somewhere deeper than the fug of travel exhaustion or the fatigued plod toward retirement. While his face remains composed, there's an internal scrabbling for an acceptable answer to the question.
Eventually, a sharp intake of breath and a smile. "I still play video games because I still make video games, of course," he says, before adding: "Just playing the stuff I make myself keeps me very busy."
Miyamoto may not have fathered the video game medium, but perhaps more than anyone else, he has been responsible for raising it.
From his first unexpected success with Donkey Kong, a game designed to shift 2000 Radardscope arcade cabinets sitting unsold in Nintendo warehouses in 1981, through the creation of multiple multi-million selling series based around characters of his own design, Miyamoto has stayed abreast of every generational leap in technology in a way not one of his contemporaries has managed.
The iconography of Mario
For more than 20 years his most famous work, Super Mario Bros. remained the best-selling video game, selling more than 40m copies worldwide and popularising a character who, by the 1990s, had become more recognisable among American schoolchildren than Mickey Mouse.
Mario's iconography came to define the medium in popular culture: the red splash of his plumber's costume; the unfashionable cap and moustache; Koji Kondo's irrepressibly joyful theme tune; the squat, shifty-eyed Goombas; and the spike-backed kidnapper, Bowser. There was a rude surplus of ideas behind the pixels which, combined, continue to represent video-gameness to so much of the world.
Beyond the recurring play myths he originated – Donkey Kong, Zelda, Mario – Miyamoto was the first to master not only the technological transition from 2D to 3D graphics with his seminal titles Super Mario 64 and The Legend of Zelda: Ocarina of Time, but also the accompanying creative transition in game systems and mechanics this dimensional expansion brought with it.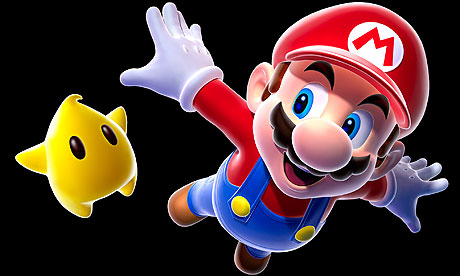 Then, in more recent years, his hand on Nintendo's visionary tiller brought motion control to the masses by way of Wii Sports and Wii Fit, titles that broadened both the definition of games as well as the audience that consumes them.
Miyamoto was honoured as the first inductee in to the Academy of Interactive Arts and Sciences Hall of Fame in 1998 and is the only video game designer to have been knighted into France's Order of Arts and Letters. If the esteem in which he is still held in was in any doubt, just four years ago he placed first in the Time Magazine reader choice of the world's 100 most influential people.
As such, to hear this visionary say that he only plays video games because he makes them is jarring. Surely his love for the medium he has spent a lifetime working to shape and define is more than just a job? Surely.
"Could it be that you might not play games if you didn't create them," I venture.
Again, the long pause; a quiet search for an answer already sat on his tongue:
"It could be that … I might not be playing games."
Could it be that Shigeru Miyamoto is tired with video games?
More spokesman than creative genius?
"The thing with Shigeru Miyamoto is that you think you're meeting Walt Disney when, in reality, you're meeting Mickey Mouse."
I had shrugged off my journalist friend's sharp warning that Mario's maker can be something of corporate mouthpiece in interviews these days. But now, sat opposite him in the plushest hotel room in Paris that yen can buy, this diminutive designer, producer and director appears more spokesman than creative genius.
It's partly understandable. He's here to promote Nintendo's latest project, an interactive guidebook on 3DS for visitors to the Louvre museum – an app, if you will, not a game.
Instead of a Walkman or iPod with spoken notes delivered as you strain to see the Mona Lisa, now visitors can rent Nintendo's latest handheld, offering 700 commentaries about the artworks and a real-time map to show your position in the museum.
It's a gimmicky idea but a well-executed one, designed to show off some of the 3DS's lesser-known features to the general public and, no doubt, help drive sales for a handheld whose sales have been generally underwhelming.
But my interest lies in Miyamoto's game work, not his promotional role in quirky tour guides. This doesn't stop him from working the Louvre guide into every other answer, with quietly cheeky stubbornness.
Miyamoto's dedication to remain unflinchingly on-message reflects his unusual position in the company. Fusajiro Yamauchi may have established the Marufuku Company in 1889, the company that would shortly thereafter become the Nintendo Playing Card Company, but without Miyamoto the Nintendo of today would not exist.
It's from his creative heart that Nintendo's brand, mascots and most valuable game series have sprouted. Miyamoto is inseparable from contemporary Nintendo and Nintendo is inseparable from contemporary Miyamoto.
And whenever a creative becomes synonymous with a corporation, there's a danger that creative pursuit slips into corporate concern, especially when business falls upon tough times. Indeed, it's easy to forget that Miyamoto's current job title is "general manager", a role that belies his expertise, inferring generalist, unspecified supervision.
A day in the life
So just how much input does the one-time artist and designer have in Nintendo's creative output? What does a day in the life of Miyamoto look like in 2012?
"My days all follow much the same pattern," he says. "They are structured and typical. Roughly half of my time I spend checking new games that Nintendo's directors are working on.
"I sit at my desk, play their games and create checklists of comments and amends that I then send out to the directors. Then, the rest of my time is spent attending various meetings, talking about management decisions for the general business direction of Nintendo."
This split of Miyamoto's time clearly reflects the split in his professional responsibility: half to the company's creative output and half to the company's corporate future. I wonder if he misses spending the majority of his time creating?
"Not at all; the decreased workload allows me to do new projects like the audio guide," he replies, with typical Japanese diplomacy. "But I am still very close to the game development. Although I am not a director myself I do check all of our games and discuss them over email. I visit Nintendo's Tokyo EAD team every few weeks too, so I don't really feel detached from the game side of the business."
Miyamoto's schedule may still be demanding, including a significant amount of foreign travel to promote Nintendo games as well as his monthly trips to Tokyo, but there is a sense that, as he approaches 60, he is winding down, stepping aside to allow others to carry the creative flame.
The most recent Super Mario and Zelda titles have credited him as "general producer" with direction and design duties falling to others, most notably Koichi Hayashida, director of Super Mario Galaxy 2 and, more recently, Super Mario 3D Land.
I ask him how he has been working to ensure that there are artists and designers to take his place when he retires, a question that is greeted with a gently frantic response.
"There have been numerous media reports that I am about to retire and I very much want to emphasise that this is not the case." This eagerness to dismiss his (inevitable) retirement plans is understandable.
When a video game blog recently claimed he was looking to retire soon, Nintendo's stock price fell the same day – a further indication of just how closely Nintendo's fortunes are perceived to be dependent on his involvement.
"I believe that if I remain in the same position as a leader of the development teams within Nintendo, then the entire structure will grow or revolve around me," Miyamoto says. "I've certainly seen there are other people within EAD that have the potential to be leaders.
"I wanted to give these people a chance to lead their respective teams. When I said in the press that I would step back a little I was just saying I want to support the company from the side, rather than being front and centre all of the time."
'We don't usually hire game designers'
Despite this eagerness to push others to the fore, Nintendo's recent unwillingness to stray far from characters and series first developed by Miyamoto is worrying.
Without risk-taking at a managerial level, surely there's little creative soil from which the next Miyamoto may emerge and flourish.
Nintendo EAD has always had the air of myth about it, a Chocolate Factory for games – the handful of journalists who have visited the Kyoto or Tokyo premises rarely see anything more than the lobby and a meeting room separate from the machinery of game development – with Miyamoto a subdued Willy Wonka.
With this in mind, I ask him how he spots new talent when hiring.
"We don't usually hire game designers," he says. "We almost exclusively hire artists or programmers; people who have learnt a technique and have a basis that we start with. Recently we have hired a few game designers, but generally they have already had careers in other companies and then joined us. But we hire a lot of people out of university. They bring basic knowledge and we start from there."
A love of discovery and adventure
This was certainly Miyamoto's own route into the industry. Born and raised in the 1950s in the rural town of Sonebe, near Japan's ancient capital, Kyoto, Miyamoto was a short, unassuming boy.
With no television in the family home he relied on the natural world outside for excitement, spending countless hours exploring the woods, caves and riverbanks near his house.
It was here he fostered the love of discovery and these childhood adventures inspired his games, a local chained-up barking dog making an appearance as the Chain Chomp enemy in Super Mario Brothers 3 and his beloved caves appearing throughout the Zelda series, myths that appear to grow in the retelling.
Graduating with a degree in industrial design in the mid-1970s, Miyamoto's father asked an old friend – Hiroshi Yamauchi, president of the toymaker Nintendo –whether he had any jobs available for his son.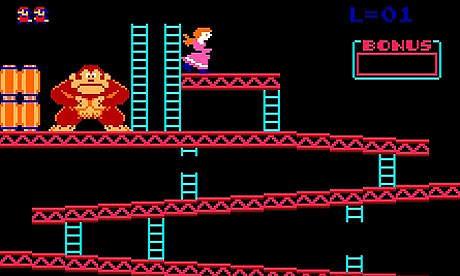 Miyamoto's first task at the company was to design art for the outside panels of some arcade cabinets Nintendo was working on: Radarscope and Sheriff. Two years later Yamauchi called Miyamoto into his office and asked him if he'd like to design an arcade game.
Miyamoto jumped at the chance, drawing the game's characters on square paper, each block representing a single pixel on the screen, calling the resulting game Donkey Kong: "Donkey", as a synonym for "stubborn" and "Kong" for gorilla.
Is there a difference between the kind of designer that started in art, like Miyamoto (who is ambidextrous – both Mario and Link were designed with his left-hand), to one who started in programming, I wonder?
"I don't think there is a big difference," he says. "Obviously people from artist or programmer backgrounds have to work together soon enough. So I think there are two key characteristics: a positive attitude towards new things, and someone who doesn't easily give up in the face of problems or criticism. That's what I look for in a new hire."
In Part 2 tomorrow, Simon talks to Miyamoto about the troubled launch for the Nintendo 3DS and the future of the handheld market.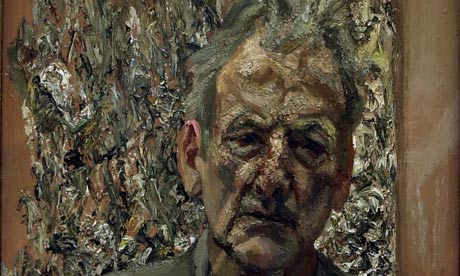 As crowds continue to flock to Lucian Freud's exhibition at the National Portrait Gallery it is time to consider how Britain can continue to do justice to this great artist when the show closes and the news moves on.Freud was never a deliberately attention-grabbing artist, but the warm public response to his art since his death offers heartening evidence that true quality transcends fashion, publicity, and the white noise of cultural chatter.
I believe Britain should open a museum in his honour. I really mean it. There needs to be a Freud gallery that permanently preserves his work and provides future generations with a repository of his achievements. There is an obvious problem – I'll come to that – but also an imperative to make this happen.
Besides Freud is a truth-teller and who likes the truth? His uneasy portrayal of the human condition is a slap in all our faces.
A Lucian Freud gallery would do more than preserve his name. It would keep his shocking revelations about the raw stuff of humanity in our eyes forever, and stop us turning away in discomfort. The problem, of course, is that Freud's paintings are very valuable and scattered in private collections and museums. A public-funded gallery of his work would have to rely on loans, bequests, and aim to build up its collection over time. Yet that works for Tate Modern. If a building with buzz were created, and government support was permanent enough, it could take off. AnAbramovich might enjoy making a long-term loan to such an enterprise. Anyway, it is the right thing to do.
Freud's landmark exhibition has cut through the illusions and affirmed the reality of who, in British art, is truly great. We need to do everything possible to preserve this moment of truth.
Το δίδυμο Μερκοζί πιθανότατα θα αποτελέσει παρελθόν από το βράδυ της Κυριακής 6ης Μαϊου, εφόσον επιβεβαιωθούν τα προγνωστικά που θέλουν τον σοσιαλιστή υποψήφιο Φρανσουά Ολάντ να κερδίζει την Προεδρία.
Ωστόσο, η σιδηρά καγκελάριος Άνγκελα Μέρκελ, η οποία έχει σαφώς εκφράσει την επιθυμία της για επανεκλογή του Γάλλου προέδρου, φαίνεται ότι διατηρεί τους σχεδιασμούς της για έναν ισχυρό γαλλογερμανικό άξονα στην Ευρώπη - πόσο μάλλον τώρα που Ιταλία και, κυρίως, Ισπανία δείχνουν να κλυδωνίζονται.
Έτσι, τα μηνύματα που περνά πλέον το Βερολίνο είναι πως η καγκελάριος θα συνεργασθεί με όποιον εκλεγεί πρόεδρος. Ονειρεύεται, ενδεχομένως, η κα Μέρκελ και ένα δίδυμο ...Μερκολάντ!
Σύμφωνα με το Γερμανό κυβερνητικό εκπρόσωπο, βάσει της εμπειρίας του παρελθόντος στην γαλλο-γερμανική συνεργασία, μέχρι στιγμής οι επικεφαλής των κυβερνήσεων των δύο χωρών, όποιοι και αν είναι, έχουν εργασθεί καλά μαζί...
Στην ίδια λογική, ο υπουργός Εξωτερικών της Γερμανίας Γκίντο Βεστερβέλε εξέφρασε την ικανοποίησή του για την παρουσία στον δεύτερο γύρο των γαλλικών προεδρικών εκλογών «δύο πιστοποιημένων δημοκρατών, που είναι προσηλωμένοι στην Ευρώπη και στη γαλλο-γερμανική φιλία».
Σε σχετική ανακοίνωση μάλιστα αναφέρει ότι «η γαλλο-γερμανική σύμπραξη είναι το ένα από τα δύο κλειδιά για το μέλλον της Ευρώπης...Η Γερμανία θα επιδιώξει καλή και στενή συνεργασία με όποιον εκλεγεί στην προεδρία από τον γαλλικό λαό»...
Το Βερολίνο, πάντως, εκφράζει ανησυχίες για την άνοδο της ακροδεξιάς στη Γαλλία.
Απαντώντας σε ερώτηση σχετικά με το ιστορικό 18% που κατέγραψε η Μαρίν Λε Πεν, ο εκπρόσωπος της γερμανικής κυβέρνησης είπε ότι αυτή η υψηλή επίδοση είναι ανησυχητική και πως θεωρεί ότι το ζήτημα θα διευθετηθεί στο δεύτερο γύρο..
( Πρώτο θέμα)
Blek le Rat

is known to many as

the godfather of street art and to the French as its grandfather

. But having honed his craft for more than 30 years, the spry 61-year-old, whose real name is

Xavier Prou, has no intention of retiring. Despite being France's graffiti art pioneer (he says he was the second to make street art in Paris, after Zloty Kamien), he is most famous for being the artist whose style the pseudonymous Banksy "stole". Blek's spray-painted stencils of rats first appeared on the banks of Seine when Banksy, who is thought to be nearly 40, was still at primary school.

In his unauthorised biography Banksy said:

"Every time I think I've painted something slightly original, I find out that Blek le Rat has done it as well, only 20 years earlier."
For a while, Blek and Banksy were mutually appreciative of each other. But the graffiti world revels in minor spats between its giants and Banksy is not one to keep matey with his rivals for long. During an interview with Blek at his rather wonderful family home, an hour's drive east of Paris, he showed me emails from Banksy that accuse Blek of mocking him and in which the tone is less than friendly. "The last email he sent me said, "Blek, are you making fun of me? Stop saying that I take my ideas from you'." Blek, dubbed by the British press as "Banquesy", is frustrated by the email exchange and says he cannot reconcile how he feels about the rivalry.
That his signature style has been taken and made more recognisable, not to mention profitable, by another artist, is "very emotional", he says. In the past, he has publicly expressed his anger, both on Channel 4's Graffiti Wars documentary and in interviews. But these days, he is more resigned to the comparison and remarks, rather sadly, that whatever he says about Banksy it will be taken out of context and that he will be accused of jealousy.
"It's difficult because on the one hand I'm very happy: without Banksy I would not have the position I occupy in the street art movement. I'm recognised in the US, UK, Australia and around the world. It helps me make a living. It's great! But on the other hand, I [have] seen how he manipulates the art market. I can see that we probably needed someone who could do this for street art, like Damien Hirst did for conceptual art, so it's very interesting. But it does make me uncomfortable."
I'm in Blek's charming rural French house to discuss an exhibition charting his 30-year career curated by Jean-David Malat, which opens at the Opera Gallery in London on Friday. Blek is sitting at a long table in the dining room of the glamorously ramshackle property that was bought by his grandfather in the 1920s and is stuffed full of worn antique furniture. Traditional portraits on the walls contrast with a mad assortment of boldly colourful canvases and stencilled panels from the artist's own atelier, propped up against the walls or stuck on doors. It is très très chic.
The graffiti movement is often associated with artists from working-class backgrounds who are unlikely to have studied at art school but instead perfected their craft while avoiding arrest for vandalism. Blek, who grew up in the rather swanky 16th arrondissement of Paris and studied at the prestigious Ecole Nationale Supérieure des Beaux-Arts (first fine art, then architecture), is clearly not of this ilk. But that's not to say that introducing street art to Paris, or making a name for himself, has been easy,
"The first time I saw graffiti art was in New York. I was 21 and had been invited by an American friend who studied with me at university. I worked for three months to save the airfare and when I got there I was absolutely amazed. It was July 1971 so it was hippie time. The streets were full of art, music, and political protest against the Vietnam war." He found the contrast to France extraordinary. "You can't imagine what Paris was like then. It was 25 years after the war but it was like the 19th century. There was nothing for young people, no music, no art."
During his American adventure, the 20-year-old Blek was utterly confused by the tags he noticed in the New York Subway. "I asked my friend, 'Why are people doing this?' Writing their names? I couldn't understand what tag signs meant, or why people painted crowns of faces on them? Nobody understood, nobody knew. The images were very strong. I had seen political slogans painted on walls in Paris, of course, but this had no obvious purpose."
Returning to Paris with the kernel of an idea, Blek asked his art school friends if they'd be interested in trying out some graffiti. They weren't interested. It would take another decade for this first burst of inspiration to find form.
He spent the years between his lengthy architectural studies and his emergence as one of the most exciting graffiti artists working as a teacher. At Adventureland, a progressive after-school club where he worked in 1980, Blek watched children steal paint and brushes from a local supermarket and use them to decorate the walls of an old warehouse.

"I suddenly knew I had to make graffiti because the kids were already doing it. Kids of seven years old gave me the idea."
His first attempt didn't go very well. "The first time I tried, in 1981, I tried to imitate American-style graffiti, but I found the technique very difficult. The result was absolutely terrible." He knew that rather than replicate the more expert daubings he'd seen in New York, he'd have to find some other way of doing it. He drew on his art school etching and printmaking training, as well as a more unorthodox inspiration.
"When I was a kid I made a trip with my parents to Padua, Italy, and I saw graffiti there made by the Fascists. Propaganda stencilled on walls. I remember asking my father about them. The faces of Mussolini stencilled in the street stayed with me." It was this combination of influences, the American and the Fascisti, that led him to develop his stencil-style.
He started with rat stencils to emphasise his new name, which was a play on well-known 1960s comic character Blek le Roc

("rat is also an anagram of art"), but also because there was something ratty about an artist who scuttles around under the cover of darkness. "Paris is full of rats, but you never see them. I wanted to say to Parisians, 'Your city is very beautiful, but don't forget that your basements are full of vermin'. I have heard that there are more rats than people living in the city.
He is glad of the position he holds as a pioneering street artist. But he is ashamed of the money-grabbing nature of modern artists.

"The art world is a big mess," he says. "Nobody cares who is a real artist. It is all about cheating people out of money."
Blek predicts a major revolution in the art world in the next 20 years. "The street art movement started 40 years ago in the US, but we are still only at the beginning. Artists will find new ways to display and sell their work that will have nothing to do with galleries and investors." Until then? "I'll keep working. But only on public walls. I'm too old for illegal ones."
Blek le Rat, Opera Gallery, London W1 (020 7491 2999; operagallery.com) 27 April to 18 May