Δευτέρα, 30 Ιουλίου 2012
I have been photographing Michael Phelps for over 8 years, which has included 3 Olympic Games and 3 World Swimming Championships and I have never seen him like this – a goldless man.
I even saw him in a race that for the first time did not result in a podium finish. And then the U.S. team only finished second in the 4X100M freestyle relay race, which included Phelps and his now great rival team mate, Ryan Lochte. I never thought this would be possible.
But the perceived rivalry between Phelps and Lochte is a very interesting story here at the London Olympic Games. Whenever I photographed the two of them together in the past, they would always be laughing, joking, and never, ever ignoring one another. Since the first training session here in London last Monday afternoon, I've noticed the lack of talk, smiles, laughter, and even recognition
Lochte is no longer finishing second to 'The King', so I am left wondering if these results have affected their friendship. The simple fact is, I will never know, but I am hoping they can recover from their competitive thoughts and acknowledge each others amazing abilities. I recently saw the movie 'Senna' about the rivalry between the Formula One drivers Ayrton Senna and Alain Prost, and how they went from friends, to enemies, and back to being very close friends. I am hoping perhaps these two great rivals will have a similar story.
Phelps was the highlight for me at the 2008 Beijing Olympics, where he won 8 gold medals to become the most successful Olympian in history.
His performance was incredible, and the pictures I took of him are my most memorable from covering a summer Olympic Games. So, to see him performing as he has at the London games has been a bit sad and to me an example of how age catches up with everyone. None of us can be as fast as we once were, even the great Phelps. Even still, I believe he will win a gold medal, in his favorite event, the 200 meter butterfly.
We will have to wait and see, on Thursday night.
By David Gray / REUTERS
Κυριακή, 29 Ιουλίου 2012
Olympics venues are "stuffed to the gunnels" with sports fans, London 2012 chairman Lord Coe has insisted amid a row over empty seats.
He spoke after hundreds of seats were left unfilled on Saturday and Sunday morning at events including swimming, rowing, tennis and basketball.
"I don't think you will be seeing this as an issue, long-term through the Games," he said.
Meanwhile, GB swimmer Rebecca Adlington has won her 400m freestyle heat.
She is due to swim in the final at 20:18 BST.
Elsewhere in other Olympic developments:
Lord Coe spoke out as the row mounted over unfilled seats in several Olympic venues.
At some venues, seats in the accredited "Olympic family" areas - reserved for groups including officials, sports federations, athletes, journalists and sponsors - have remained unfilled.
Empty seats "in the very earliest phases" of the Olympics were part of "the nature of that accredited area", Lord Coe told a press conference.
"[The ticket-holders] are trying to figure out how they're going to divide their time, what their responsibilities are, and how and when they get dragged to any number of venues," he said.
Organisers would fill some of the empty seats with servicemen and women, as well as local students and teachers, he added.
And they would sell more tickets - as they did with about 1,000 tickets on the London 2012 website on Saturday night.
He said a system had been introduced similar to the one used at Wimbledon, where people coming out of the stadium handed on their tickets so the seats could be made available to others.
'Experience tainted'
Tickets are also given to sponsors and, on Sunday, Visa, British Airways and Lloyds TSB all said they had given the majority of their ticket allocations to customers through competitions and promotions.
Lord Coe added that sponsors "were turning up," adding that they would not be naming and shaming those who did not.
On Sunday, the BBC's Kevin Bishop, at the rowing at Eton Dorney, said the cheap seats were pretty full but opposite, next to the press seats in the main stand at the finish, there were several hundred empty seats.
Banks of empty seats could also be seen at Wimbledon's centre court and the Aquatics Centre on Sunday morning.
American Paul Fondie, who now lives in Kew, west London, said he was frustrated by the number of empty seats at the men's gymnastics at the O2 on Saturday.
He said he and his wife had not been able to take their six-year-old son because they could not get an extra ticket.
"It tainted my experience of the Olympics - it was our moment to come under the microscope and show that London can do it well."
BBC correspondent Andy Swiss said ticketing was a sensitive issue after many fans missed out and the empty seats were a problem Locog would be anxious to solve.
Meanwhile, Mansfield-born Adlington began her defence of the two gold medals she won in Beijing in the 400m freestyle heats on Sunday morning.
Her battle to hold on to her 800m freestyle title will begin with heats on Thursday morning before Friday night's final.
Cyclist Nicole Cooke is competing in the women's road race - the event in which she won Team GB's first gold at Beijing in 2008 - which began on The Mall at 12:00 BST and will finish there at about 16:00 BST.
Andy Murray - who was defeated with his brother Jamie in the tennis doubles on Saturday - will play Stanislas Wawrinka in the singles at Wimbledon.
And Briton Ben Ainslie has begun his quest for a fourth Olympic gold medal as the first day of Olympic sailing begins at Weymouth Bay.
British teams are competing in basketball, handball, hockey, volleyball, water polo and the football on Sunday.
Meanwhile, the US basketball team - the most decorated in Olympic basketball - will begin their title defence against France later.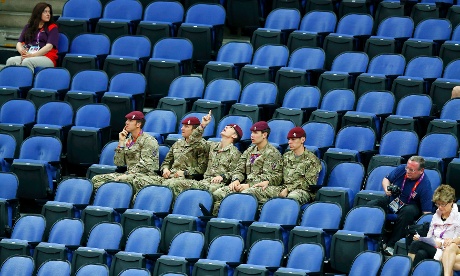 Olympic organisers have brought in soldiers to fill the empty seats that have been blighting some Olympic venues
The culture secretary, Jeremy Hunt, said on Saturday the empty seatswere "very disappointing" and suggested they could be offered to members of the public. He said the matter was being looked at "very urgently".
At Sunday's first session of the mens

basketball

at the 12,000 capacity basketball arena, 70% of the lower tier of seats – which includes those allocated to sponsors, Olympic officials and athletic federations – was empty. About 15% of the larger upper tier, sold to the public, was empty. In total the Guardian estimated that more than 2,000 seats were empty in the venue to watch

Nigeria

v

Tunisia

.
On Saturday, the morning

swimming

heats, featuring Michael Phelps and his US rival Ryan Lochte, there were an estimated 500 empty seats in one block alone. And at the morning session of the

gymnastics

, at which Louis Smith and the rest of the British team appeared, there were more than 1,000 empty seats despite prospective ticket buyers being told it was sold out.
Lord Coe, the chairman of the London organising committee, was dismissive of concern that too many seats were being left empty and denied that calling in the military appeared "shambolic".
When asked to identify who should have been sitting in two-and-a half empty blocks of seats at Saturday's

gymnastics

, Coe initially appeared to be in denial. He said: "Lets put this in perspective. Those venues are stuffed to the gunnels."
He later clarified his position saying: "We take it seriously. I don't want to see swaths of those seats empty."
"If we have the army sitting there on rest periods we can ask them if they want to sit in there and watch it," he said. "It's not mobilising the army to resolve this. I don't think there is a single person out there would thinks it is shambolic, given the way they have stepped up in the last weeks."
Coe said he believed the problem would settle down and said it was a result of representatives of national Olympic committees, sporting federations and some sponsors taking time to "work out the shape of their day" and decide where to go. The organisers said that the empty seats were predominantly left by sporting officials and claimed that sponsors were taking their seats.
Lord Moynihan, the BOA chairman, said organisers "owe it to the fans" to find a way of filling places.
"We owe it to the British sporting public to give them an opportunity to attend one of the most historic sporting events of their lives," he said.
Coe dismissed the idea of the 30-minute rule saying: "We have got a more considered way of doing that, that judges the situation on an hour by hour basis."
To fill the accredited seats the organisers must find people with existing accreditation to the venues which rules out members of the public.
Up to 150 local school children and school teachers who are already accredited to the park, under a pre-existing scheme meant to fill seats in accredited areas, will be used alongside the soldiers.
Excluding the

football

, between 100,000 and 120,000 Olympic ticketsremain unsold, organisers said today. Some of those are already for sale online and others are the process of being returned by sponsors and public from abroad.
A Wimbledon-style returns system, allowing people already on the Olympic Park to pick up tickets to the last parts of sessions of

basketball

,

hockey

,

handball

and

water polo

, is now in operation.
Childrens' tickets cost £1 and adult tickets cost £5. Yesterday, 280 were sold. Passes allowing people onto the park, but not into venues, remain on sale.
During the sometimes controversial ticketing process, during which 6.6m of the 8.8m tickets were made available to members of the public, organisers repeatedly highlighted the lengths they were going to make sure there were no empty seats.
They said they wanted to avoid the situation that occurred in Beijing and at other Games, where even at sessions that were officially sold out there were large areas of empty seats – particularly for morning heats.
The problem tends to be caused by IOC stipulations that retain a certain number of seats for officials, athletes, international federations and other accredited individuals. It can be particularly acute on the morning after the opening ceremony, which finished close to 1am.
In the vast majority of the venues, at least one-fifth of seats are reserved for sponsors, officials, the media and the "Olympic family".
In the most popular sessions, such as the opening ceremony and the 100m final, the proportion is closer to half.
Those thronging the park who had been unable to get into the venues to watch any live action were critical of the empty seats, which can also be highly embarrassing if shown on television.
"I think it's terrible, especially when so many people want a ticket," said Sharon Beers from Portsmouth, "there should be less seats for officials."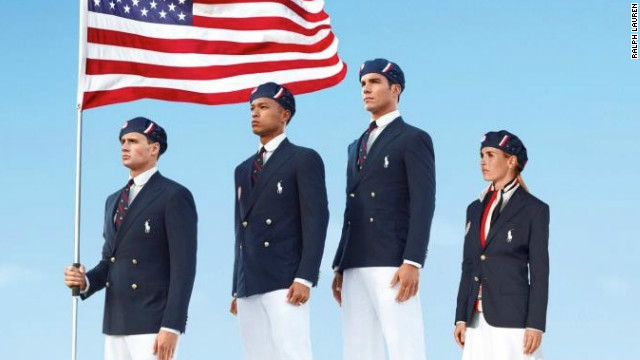 Designed by
Ralph Lauren
, Team USA's opening ceremony uniforms clearly draw inspiration from the dress uniforms of the U.S. Army and Navy.
When people across the world tune in to the opening ceremony of the 2012 Olympics on Friday, regular TV programming will be set aside for pageantry and pomp.
Amid all the attention to the "Made in China" controversy about Team USA's uniforms, little has been written about their design. But if numerous online slide shows ranking the best and worst of the opening ceremonies uniforms are any indication, the design is what we're most interested in.
Nations did not always wear uniforms in the Olympic Games, and the United States did not adopt a cohesive look until about 1920.
Today, however, with huge worldwide audiences and markets at stake, the uniform is a calculated part of each nation's global image. The colors, patterns, silhouettes, lines and shapes of each nation's uniform form a statement about its identity. U.S. designers, for example, have frequently used white cowboy hats in their ensembles.
Designed by Ralph Lauren, Team USA's 2012 opening ceremony uniforms feature berets and navy, brass-buttoned, double-breasted blazers for the men that -- even without chevrons, medals or epaulettes -- draw clear inspiration from the dress uniforms of the U.S. Army and Navy
Should the appropriation of military style concern us?
Almost all Olympic uniforms we see today derive from religious or military forms of apparel. Military apparel migrated to civilian life centuries ago, when veterans realized uniforms invited attributions of reliability, discipline and heroism and when various civil institutions used them as a means of regulating groups of people. Men's clothing strongly has been influenced by military looks, and the fashion industry markets "military chic" to women as well.
America's love affair with military looks is especially intense and enduring. And unlike the Vietnam War, when military uniforms were appropriated in anti-war protests, today's military looks are part of a sartorial status quo that subtly affirms a pro-soldier, pro-military message.
We know the athletes are not real warriors, of course, but clothing sends powerful messages. Fashion critics long have charged that military fashions are a problem because they aestheticize war and divorce clothes from their true functions and origins. We ought to be wary of efforts to make any aspect of war desirable.
Considering that the U.S. spends more on defense than the next 10 nations combined, some would argue that dressing the Olympians like members of the armed forces during the biggest television event of the year is an arrogant or impolitic choice.
Skeptics might counter that Jamaica's opening ceremony outfits are militaristic, too. But Jamaica's are more clearly sportswear, and in color, pattern and tone, their look is joyful and lighthearted. And Jamaica isn't a global military power.
For most Americans, however, the military style of the 2012 the uniforms will raise little concern because we have been encouraged to ignore the countless ways in which military culture is integrated into our society.
Fashion designers promote military styles as cutting edge, but usually refute the notion that the military aesthetic has anything to do with real war. Glitzy Pentagon marketing campaigns, military-backed Hollywood films and first-person shooter video games elevate the cultural status of uniformed troops and encourage us to identify with them. All of these things help maintain a pro-military citizenry.
The 2012 Olympics uniforms are another in a long series of salutes to and affirmations of the American military. They are a product of an inherited, imperial history of clothing, of our particular war-fighting history and of the "support the troops" trope so common in 21st century war rhetoric.
Whether we're comfortable with it or not, the military uniform of Team USA is at least as American as white cowboy hats.
But there are other choices. Historically, roughly half of the U.S. opening ceremonies uniforms have been inspired by sportswear, including the excellent styles in the 2004 and 2008 Summer Games. Maybe it's time to get more creative.
In the next Olympics, how about getting Betsey Johnson to design a uniform that is radically different?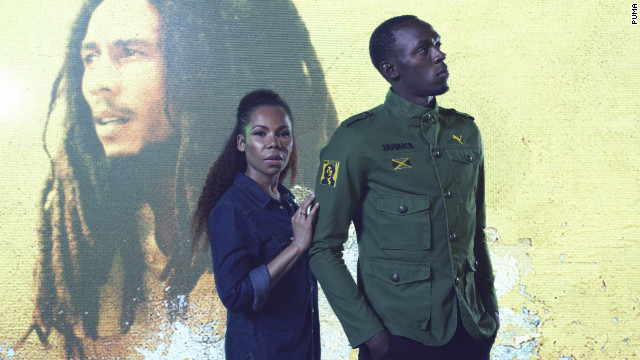 Of all the designers involved in London 2012, Cedella Marley's collaboration with Puma in designing Jamaica's uniforms has perhaps garnered the most praise. The granddaughter of reggae legend Bob Marley has created outfits that radiate laidback, urban cool. Of course, it helps that Usain Bolt is wearing them.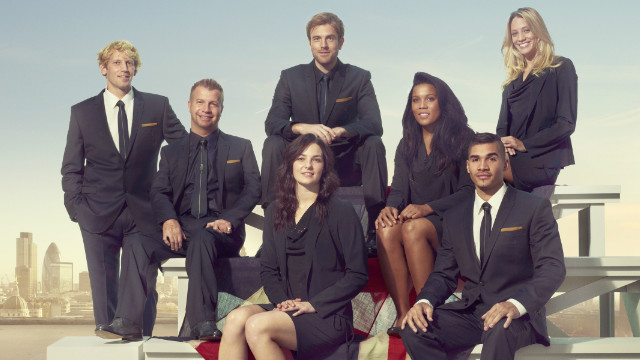 Moderate high-street chain Next designed Team Great Britain's formal wear for Friday's opening ceremony, where the host squad will be paraded in front of their home crowd for the first time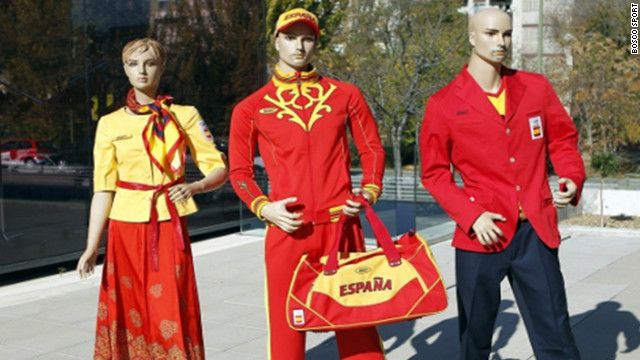 The uniforms that Russian designer Bosco Sport created for Spain's Olympians are so dreadful that the athletes have taken to social media to express their displeasure. Hockey player Alex Fabregas uploaded a picture of himself clad in his new gear with the caption: "Olympic kit ... there are no adjectives."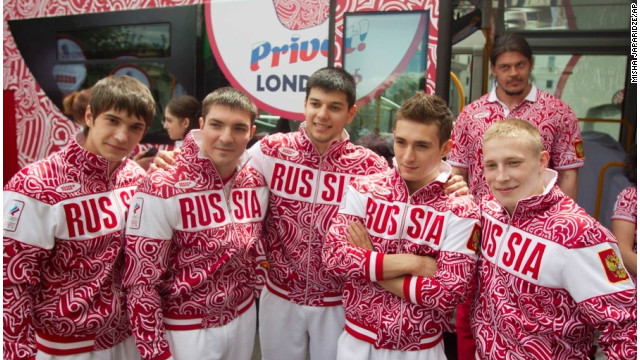 Bosco Sport can't seem to catch a break, this time grabbing attention of the wrong kind for its retina-scalding designs for the Russian athletes.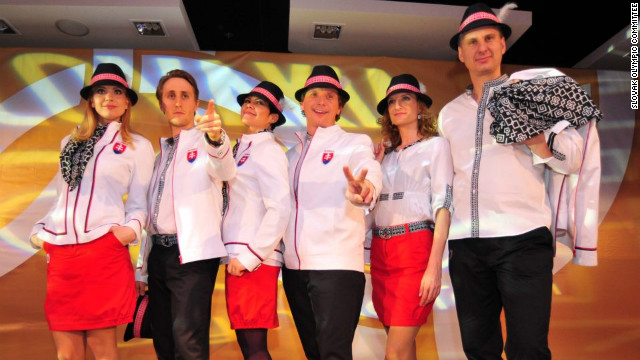 It is unclear who designed the Slovakian team's uniforms -- although who wouldn't want to retain anonymity after creating those fedoras?
cnn
http://www.bbc.co.uk/news/uk-14291544
Medals have been presented to event winners and runners-up since the first modern Olympic Games in 1896. For each host city, different medals are minted and the designs and sizes have changed through time. Explore them by clicking on the medals below. (follow the above link)
Athens 1896
Thickness:

3.8mm
Diameter:

48mm
Weight:

47g
Quantity:

100
Designer:

Jules Clement Chaplain
Winners at the first modern Olympics did not receive a gold medal but a silver one. Runners-up had copper. On the front Zeus, father of the Gods, holds Nike, the goddess of victory. The Acropolis is shown on the back.
Athens 2004
Thickness:

5mm
Diameter:

60mm
Weight:

135g
Quantity:

1,130
Designer:

Elena Votsi
The Greeks went Greek, with a new depiction of Nike, flying into the 1896 Panathenaic stadium to bestow victory on the strongest, highest and fastest. Classic Greek lettering spells out the Olympic ode under the Athens logo
London 2012
Thickness:

7mm
Diameter:

85mm
Weight:

400g
Quantity:

--
Designer:

David Watkins
The biggest Summer Olympics medals to date. Artist David Watkins says the key symbols on front and back juxtapose the goddess Nike, for the spirit and tradition of the Games, and the River Thames, for the city of London. On the back of the medals is the 2012 branding, representing the modern city as a jewel-like, geological growth. The logo is shown against a 'pick-up-sticks' grid which radiates the energy of athletes and a sense of pulling together. The River Thames runs through the middle as a celebratory ribbon. The bowl-like background recalls ancient amphitheatres, with a square balancing the circle to give a sense of place. The sport and discipline is engraved on the rim of each medal, all of which will be produced by the Royal Mint at Llantrisant, South Wales
http://www.bbc.co.uk/sport/0/olympics/18165601
The BBC has unveiled its "Stadium UK" title sequence and marketing campaign for the London 2012 Olympics.
The campaign shows the landscape of the United Kingdom transformed into a giant sporting arena inside the Olympic Stadium.
The music is First Steps, written and performed by Elbow, alongside the BBC Philharmonic Orchestra and the NovaVox gospel choir. It will be available as a digital-only download from 27 July with all profits going to BBC Children in Need and Sport Relief.
Creative agency Rainey Kelly Campbell Roalfe Y&R developed the concept and the animation was created by Passion Pictures and produced by Red Bee Media.
It will also be used to provide digital imagery for desktop, mobiles, tablets and connected TV content.